Visalia Restaurants Reopen With Outside Dining
Restaurants are creating new ways of staying in business. Downtown Visalia is looking ahead, transitioning from dine-in to dining outside.
Restaurants in Visalia began putting together family meals that consisted of enough food to feed at least a family of four. For instance, a downtown favorite, Wimpy's Hamburgers, created a family meal that consisted of four cheeseburgers, four small fries, and four medium drinks all for just $24.99! 
As downtown continues to develop safe protocols for customers outdoors, the city is starting to block off parking stalls on Main Street so that businesses can place tables and chairs, spread out and making sure to take extra precautions when it comes to opening up once again.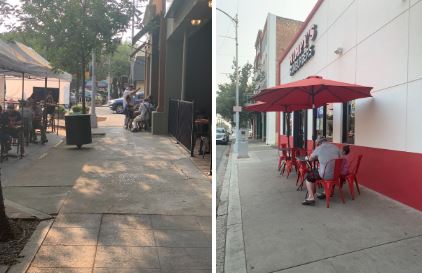 Colima's, Brewbakers, Rookies, and more are now open for business (outside anyway), and downtown Visalia couldn't be any more packed.Pop-up tents are pitched up, AC units outside, and customers wanting to support businesses during this difficult time.
Everyone is required to wear masks before sitting outdoors for their safety and those around them. 
Driving around downtown Visalia on Friday evenings, while also keeping safety precautions in mind, is bringing our community together and reminds us that we can get past the Coronavirus pandemic.