A Riddle for a Play, the Hookman is out…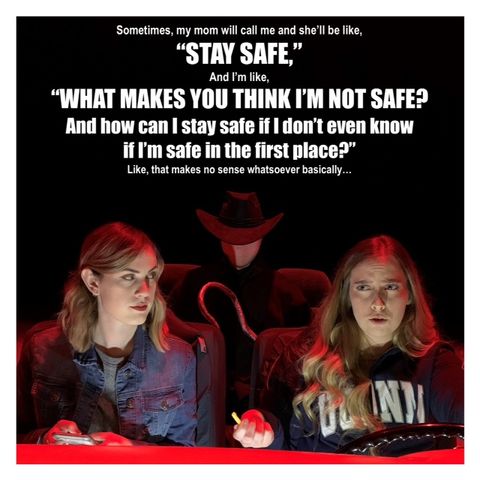 Melodie AubinElliot, A&E Editor
December 9, 2019
Hookman was said to be a dark comedy / slasher play that is a take on the urban legend of the hook man. But what you get, is although a well-acted play, you get a riddle. An unsolved riddle at the end, making it unsettling to be candid.
The play opens to two high school friends' home from college for thanksgiving break, they explore coming to adulthood themes and it is nearly good character development, but then they are in an accident that is suggested at the hands of a hook man in the backseat. You flash to the Character Lexi, she is returning home from thanksgiving break grieving as her friend was killed in the accident, but she survived, or so we think.
It makes the entire play a head scratcher as you are going back and forth with the rotating stage to the accident back to Lexi's campus at college. She is reflecting on the accident, her friendship, her own freshman experiences of rape and feelings of isolation as she has a hard time making connections at her school.
As a viewer you are not sure if you're trying to figure out who the hook man is or if he is real, and if Lexi survived the accident or murder or if she caused it. The set and stage as well as sound are impeccable, you really feel engrossed in this technology stimulated social media driven setting. And the student actors do an amazing job of creating a self-indulgent narcissistic college environment.
But here's the truth, ya got to have your riddle solving pants on to view this play, audience is left uncertain. Asking fellow audience members at the end one student commented "didn't get it".
There is a scene where Lexi's roommate is killed, or was she? There is unresolved seeds planted about Lexi being raped, but it is not truly addressees rather brushed over. One obvious thing that they presented was that victims of hookman, or perhaps rape had it coming. It was all very confusing to be honest, especially since these themes are being touched on but the thought never completed as in you never know where any character stands in regards to all that is being brought to light.
For a person that reads into the foreshadowing, and can sort through the rapid moving play you may understand in the end what is happening. For those new to theatre going you're gonna be left asking questions. And perhaps that is the beauty of art and theater, we all take it in different and in that it's certainly a great thing to see. You will surely have something to talk about after the play with the person you went with. The hookman play runs through Sunday, November 24th, information can be obtained on the COS facebook page.