The Legacy of John Lewis
He was the first black lawmaker to lie in state in the U.S Capitol, rotunda.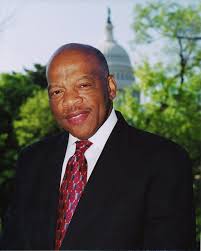 "When you see something that is not right, not fair, not just, you have to speak up. You have to say something; you have to do something." – John Lewis.
February 21, 1940, marks the day John lewis entered the world and set his foot down for a change. As his birthday passes, the first birthday we celebrate without him, let us remember. Let us remember who John Lewis was.
Growing up in a time of racial segregation, John Lewis had a happy childhood surrounded by a loving family.
"Their love could not protect me from the unholy oppression waiting just outside that family circle." – John Lewis.
In 1955- 1956, Martin Luther King Jr's speech on the Montgomery Bus boycotted heavily inspired Lewis leading him to leave his home in 1957 to join the Civil Rights Movement. He created his first mark by attending the American Baptist Theological Seminary in Nashville, Tennessee, where he participated in organized sit-ins. There they nonviolently protested against segregated lunch counters.
During many of these sit-ins, he was arrested countless times, but he still prevailed and went on to attend the 1961 Freedom Riders. Freedom Riders were known to challenge segregation and the segregated facilities. Due to his active role in these demonstrations, Lewis met the other end of many arrests and beatings.
Eventually, the Civil Rights Act became law, but it did not lessen the struggles of black communities in the south. With not much coverage and attention on voting rights for African Americans in the south, Lewis and American Civil Rights Leader, Hosea Williams, joined arms to lead a march (that would be soon known as "Bloody Sunday") from Selma all the way to Montgomery, Alabama, on 1965, March 7.
Unfortunately, they were attacked, and Lewis was once again beaten by state troopers.
"I gave a little blood on that bridge Selma, Alabama for the right to vote. I am not going to stand by and let the Supreme Court take the right to vote away from us." – John Lewis.
This unfateful day sped up the process of the 1965's Voting Rights Act. After the right to vote was given to all, Lewis continued to fight for people of color, and in 1970, he took the role of the director of the Voter Education Project. Lewis helped many register to vote, and with the impact he made, he encouraged millions of minorities to vote.
In 1986, he was elected to become a House of Representatives member. During his time and even now, he's one of the most loved and respected Congress members.
Lewis fought for many since taking the role of Georgia's 5th District. He filed for healthcare reform, education improvements, supervised the renewals of the Voting Rights Act, fought poverty, and many more.
Throughout his lifetime, John Lewis received many awards. One of his most significant awards was receiving the Presidential Medal of Freedom. He was also awarded in1975 the Martin Luther King Jr Nonviolent Peace Prize and the NAACP (National Association for the Advancement of Colored People) in 2002. These were some of the awards he's received amongst many other significant accomplishments.
"Get out there and push and stand up and speak out and get in the way the same way my generation got in the way. Get in trouble. Good trouble. Necessary trouble."- John Lewis.
However, as all good things come, all good things come to an end as well. In 2019, John Lewis was diagnosed with pancreatic cancer, and in 2020 July, he passed away.
Throughout his life, Lewis struggled and fought against challenges that would make many give up, but Lewis never gave in to the temptation of giving up. He prevailed and prevailed until what he fought for became a reality instead of hopes. Now everyone knows who he was and what he did.
He was the first black lawmaker to lie in state in the U.S Capitol, rotunda. He was one of the Big Six leaders of the Civil Rights Movements. He was a respected congress member who fought for the people- who strived for the people. He was an inspiration, a hero, a leader, a legend.
He was John Lewis.
"Though I may not be here with you, I urge you to answer the highest calling of your heart and stand up for what you truly believe. In my life I have done all I can to demonstrate that the way of peace, the way of love and nonviolence is the more excellent way. Now it is your turn to let freedom ring." – John Lewis