559 Fights 92, November 19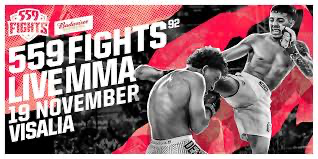 The 559 Fights promotion held their monthly fight show at the Visalia Convention Center this past Saturday, November 19th as 18 fights (22 with grappling included) were put on display for valley MMA fans from areas of Visalia and beyond. From the original start time of 7 p.m. all the way to the last fight of the night ending at 11:45, fans were on their heat for match after a match.
There were three title fights for the evening, with one of the title fights in particular being a grappling super match. The tagging of the terminology "super match" meant that slams were allowed in the match for points toward the overall scoring of the game, something that is not a staple in all grappling matches.
Weight Classes:
Cruiserweight: CW(125) Bantamweight: BW (135) Featherweight: FW (145) Lightweight: LW (155)
Welterweight: WW (170) Middleweight: MW (185) Light Heavyweight: LHW (205)
Heavyweight: HW (265)
GRAPPLING MATCHES:
Noah Wermeck def. Beto Delgado
Connor Cunningham def. Diego Flores
Romnik Ghag defeated Kail Melton in a split decision in the Heavyweight 559 Fights Grappling Championship
Mariano Aldama def. Jose Avila
MMA Results: *all fighter's records have been updated with the post-fight results from 559 Fights 92
BW:Salinas, CA Jeffrey Bonilla (3-0). Def. Pittsburg, CA Alec Acuavera(2-4) via Rd. 1 TKO
WW: Fresno, CA Michael Ramirez(1-0) def. Fresno, CA Trae Garton (0-2) via Rd. 1 TKO
FW: Fresno, CA Felix De La Pena (2-0-1) def. Hoopa, CA Stephen Vigil (0-2) via Rd. 2 TKO
LW: Lancaster, CA Antonio Ruelas (1-0) def. Fresno, CA Anthony Flores (0-1) via unanimous decision
WW: Long Beach, CA Kenneth Clark (2-0) def. Keene, CA Chandler McCathron (0-2) via Rd. 2 Submission (armbar)
CW: Fresno, CA Isaac Johnson Jr. (2-0) def. Madera, CA Matthew Hernandez (0-1) via Rd. 2 Submission (rear-naked choke)
MW: Madera, CA Richard Sandoval (1-0) def. Bakersfield, CA Logan Yoder (0-1) in a split decision
LHW: Fresno, CA Larry Zavala (2-0) def. Gilroy, CA Eugene Antonio (0-3) via RD 1 TKO
FW: Gilroy, CA Juan Padilla (1-0) Bakersfield, CA Jorge Chaidez (1-0) def. Bakersfield, CA Jorge Chaidez (0-1) via split decision
LW: Fresno, CA Gino Gonzales (3-1) def. Concord, CA Pablo Solis via Rd. 1 TKO stoppage
WW: Sacramento, CA Voldoymyr Burian (2-1) def. Fresno, CA Brady Berg (2-1) via Rd. 2 KO
Woman's WW: Visalia, CA Jacklyn Green (1-0) def. Fresno, CA Debbie Syvong (1-3) via split decision
FW: Clovis, CA David Plascencia (3-1-1) double draw with Porterville, CA Brian Benavidez (5-1-1)
FW:Santa Barbara, CA Brandon Lozcano (2-0) def. Madera, CA Paul Furr (1-1) via Rd. 1 submission (rear-naked choke)
WW: Salinas, CA Nathaniel Santos (3-1) def. Madera, CA Roman Guillen (2-1) via a split decision
LW: Sacramento, CA AbduMalik Saidabulov (1-0) def. Visalia, CA Zeke Bucey (2-3) via Rd. 1 submission (rear naked choke)
California City, California Royce Butler (5-1) retained the 559 Fights Bantamweight Title against Clovis, CA Devin Guerrero (2-2) in a unanimous decision
Arcata, CA Dupree Stewart defeated Porterville, CA Shane Christie (5-1) via submission with an iminari choke in a three-round comeback effort from Stewart in a strong performance to win the 559 Fights Welterweight Title along with the CAMO Weltwerweight State Title.
The next 559 Fights event will take place at the Visalia Convention Center once again, this time on December 17th and will feature 90 Days Fiance star Biniyam Shibre, now signed to Iridium Sports Agency, who will have his second fight for the promotion against undefeated challenger Joshua Simpson (4-0).
The card is also slated to feature Visalia natives Tyler Miller and Tyler Saelee, as Miller will take on Anthony Lopez and Saelee will having his second match against Derian Perez (1-0). The main events for the evening will be title fights from 559 Fights Lightweight Champion David Mariscal against undefeated challenger Blake Decourcy (4-0) as well the main card of the night featuring 559 Fights and CAMO State Welterweight Womens Champion Julia Alonso, who will face off against Joy Pendell (3-2).
If you are looking to purchase tickets for the event, go ahead and head to the 559 Fights socials or head to Eventbrite to purchase directly!
Leave a Comment