Away and Victorious the Giants Return Home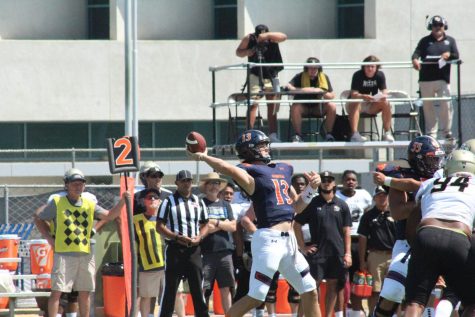 On October 30th, College of the Sequoias played an away game against the Sacramento City College Panthers, in which they won 16-0. This win allowed COS to advance to 2-1 on the season for in conference play (one victory is still pending, as West Hills Coalinga had to forfeit their game against the Giants). Sacramento State fell to 1-2 in conference play following the loss. All of the scoring plays are as follows:
1Q – 14:47 – On the first play of the game, Nathan Lamb threw a missile down field for a 75 yard pass to Kelsey Demps. The kick failed, and the score moved to 6-0 Giants
2Q – 00:16 – Wailoa Manuel completed a 23 yard field goal after a drive of 10 plays and 74 total yards, score advanced to 9-0 with the Giants still in the lead
4Q – 08:53 – The last scoring play of the game, Jimmy Pouba took an interception 77 yards back to the end zone and brought the score up to 16-0, where it would stay for the remainder of the evening. 
Although it was not a very offensively charged game, there were still a couple key offensive players for both teams. Such as Sacramento City QB Jacob Stewart, who completed 21 of his 30 attempts for a total of 213 passing yards. On the flip side, the Giants used both Tate Robards and Nathan Lamb, who combined for 19 completions on 29 attempts and 282 passing yards. Lamb was the workhorse of this game however, with 189 passing yards coming from his right arm.
Runningbacks John Friend and Jaedyn Pineda both ran for over 20 yards, while QB Tate Robards and Runningback Kelsey Demps both ran for positive yardage. For Sac City, only Evan Zeppieri ran for positive yardage, with 13 yards on 14 attempts. 
Defensively, the Giants had 4 sacks for a total yardage loss of 25; Defensive lineman Isaiah Jackson found the most success against the team we will now know as "Sack" city, getting two sacks for a loss of 11 yards, as well as two tackles that resulted in the loss of yet another 11 yards. 
The defensive parade doesn't end there either, with players Ronnie Wessel and Rhett Sarvela each getting one sack for a loss of 7 yards. Players Isaak Guzman, Lonnie Wessel, Dorrian Felix, Isaiah Jackson, Rhett Sarvela, Benjamin Haywood, and Taaj Andrews all completed tackles that resulted in the loss of yardage. In 9 tackles for losses, the Giants were able to knock the Panthers back a total of 48 yards. Don't forget about the 77 yard interception return touchdown by Jimmy Pouba either, which basically sealed this game shut with an iron bar. 
For Sac City, there wasn't much to write home about in terms of defense. Isaiah Byars completed one sack for a loss of 7 yards, and the entire Sac City Defense only had a loss of 21 yards on 8 tackles. 
Overall, COS has been improving with every game that they have played this season on offense and defense, and Sac City is just one of the 5 dominos that will fall during the time of conference play for the Giants. 
If you are looking for more on what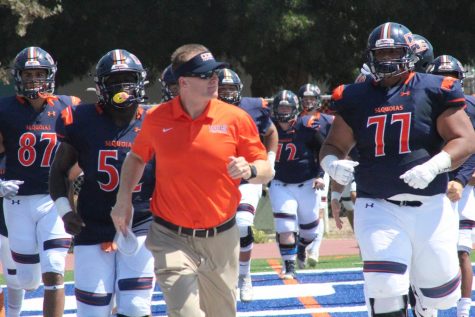 Head Coach Travis Burkett has to say on the state of his team and this program, make sure to tune in to the Giants Talk Coach's Corner posted weekly on the COS Campus Journal.