Why Vince Lombardi still matters, but not for the reason you may think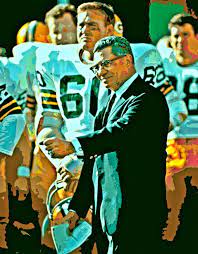 Vince Lombardi is the closest thing there is to a God in the football world, the Super Bowl trophy bears his name. In his ten years as an NFL head coach Lombardi compiled a 96-34-6 record, losing was not only something Lombardi detested, it was tantamount to a sin. Lombardi was known for being tough and was in the eyes of his generation the epitome of masculinity, a man's man who was to be emulated. Lombardi passed away over fifty years ago and yet his presence and his image is still one that is celebrated throughout the football universe. A further look into the man shows that Lombardi was more than just a football coach, Lombardi was a champion for civil rights and an LGBTQ ally who was years ahead of his time.
In the year 2021 Carl Nassib of the Las Vegas Raiders is the lone openly gay man on an active NFL roster, but if Lombardi had had things his way there would likely be many more. It may come as a surprise to many that Lombardi, who began his head coaching tenure with the Green Bay Packers in 1959 was so progressive, but for Lombardi it was personal. When Lombardi coached the now Washington Football team in 1969 he brought in a running back named Ray McDonald who was arrested for having sex with another man in public and cut from Washington the year before. In the Lombardi biography When Pride Still Mattered, author David Maraniss uncovered a truth about Lombardi, he wanted McDonald to make the team, and he made that clear to his assistant head coaches, "I want you to get on McDonald and work on him- and if I hear one of you people make reference to his manhood, you'll be out of here before your ass hits the ground.".
If this comes as a surprise to you, perhaps it shouldn't. Lombardi's daughter knew why, "My father was way ahead of his time. He was discriminated against as a dark-skinned Italian American when he was younger, when he felt he was passed up for coaching jobs that he deserved. He felt the pain of discrimination, and so he raised his family to accept everybody, no matter what color they were or whatever their sexual orientation was.". Dave Kopay who played on that 1969 team came out after retiring but feels that Lombardi knew even without ever telling him, and that he knew about his romance with fellow teammate Jerry Smith, "Lombardi protected and loved Jerry ", Kopay would later reveal to ESPN's Ian O'Connor.
Few know that Lombardi's brother was gay, and according to Doug Farrar of Yahoo! Sports, "Vince knew Harold was gay and didn't just believe in "tolerance" but believed strongly that discrimination against gay people was wrong, just as he was angered when he saw mistreatment of his black players, or discrimination against his fellow Italian-Americans".
Lombard was a devout Catholic, and took great pride in his experience as an altar boy at St. Mark's Catholic Church. He attended the Cathedral Preparatory Seminary in a six-year secondary program to become a Catholic Priest. Lombardi would attend mass daily throughout his life. Every day before coming into the Packers facility in Green Bay Lombardi would stop at St. Willebrord Church to pray. When he had a street named after him, Lombardi Avenue, his 37-member entourage was required to attend morning Mass first.
In his faith Lombardi found compassion and understanding in place of judgment and would often tell people that he "… viewed his players as neither black nor white, but Packer green.". Before Lombardi joined the Packers, they had one black player rostered, by the time Lombardi left the team they had thirteen. In his first training camp with the Packers Lombardi was alerted to an interracial relationship between one of his black players and a young white woman, Lombardi responded by threatening to cut any specific player that he saw exhibit prejudice in any manner, no exceptions. In 1960 before the start of the NFL season Lombardi let it be known publicly in Green Bay that any establishment that did not accommodate his black and white players equally would be off limits to his entire team.
When Lombardi left Green Bay for Washington he hired David Slaterrly, a gay man, as his assistant general manager and considered him his right-hand man and invited gay players to training camp in hopes one would make his team. Lombardi's views on equality went beyond race, and he hoped to see gay players break the same glass ceiling that black players were actively breaking.
Vince Lombardi was many things, the creator of modern football, an often flawed father and husband despite his best efforts, an angry and hostile head coach on the field, a two-time Super Bowl and five-time NFL champion, but most importantly he was a champion of human beings. That's why Vince Lombardi still matters.
Leave a Comment