Bad Air Quality : What is the real damage?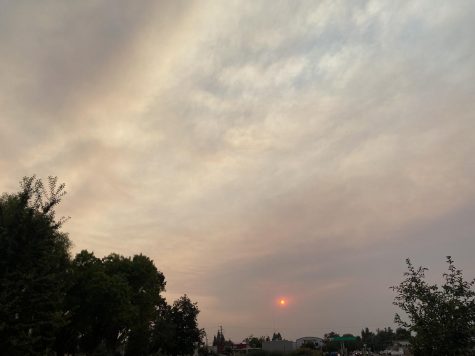 It's the month of September, and fires are still raging in the Valley causing a surge in bad air quality which raises concerns for physical and mental health of the inhabitants here in Visalia, CA.
Since July 13, The Dixie Fire in Northern California has been burning and has become the largest single wildfire in California's history.
Lillian Perez, a student majoring in education, has had to endure hardships due to the bad air because she has asthma. It has affected her breathing since the start of the wildfire season this summer.
"I have found it harder for me to breathe due to the bad air and my asthma, although it has not impacted how long I spend outside of the house or how long I spend on the COS campus," said Lillian Perez.
According to National Geographic, students with asthma are at a higher risk of acquiring long-term detrimental effects to their breathing due to their condition. Pollutants can irritate airways and cause them to swell, which then causes breathing problems. This irritation can make people more likely to catch upper respiratory illnesses such as the common cold. Even if the air quality says it is "good" or "moderate" the pollutants in the air can still have an impact on how we breathe.
People with respiratory illnesses aren't the only ones who are at a higher risk from the bad air, athletes who spend the majority of their time outside have some of the greatest levels of exposure of anyone.
Sprint runner Elijah Frausto commented on how air quality impacts the way that he feels when he is running.
"When I run or practice for track it's harder for me to catch my breath, even when I had played football in high school the bad air made playing sports hard," said Elijah Frausto.
National Geographic also mentioned the negative effects of running during times of smokey air are: having shortness of breath when running, a scratchy throat, and negative impacts on your immune system. Running in pollutants caused by wildfires also can cause fine particulate matter with diameters less than 2.5 micrometers (which is produced from the burning of organic material) to be lodged within your lungs.
This can create long-term issues for people, especially if these particles get into your bloodstream. Once fine particles find their way into your bloodstream, they can lead to inflammation and circulatory problems.
Biology student Hector Maduena added that it can get hard to breathe during the day, especially during the afternoon hours of the day when it becomes unbearably hot.
"Usually it only gets harder to breathe later in the day. I'm not sure whether it's the bad air quality or how hot it can get in the afternoon, but yeah it can get hard to breathe sometimes," said Hector Maduena.
He also added that even though it can get harder to breathe during the afternoon, it doesn't impact how long he spends on the COS campus.
"It doesn't really affect me all that much, I don't spend any less time on campus. But I do notice the difference though when the air gets bad, " said Hector Maduena.
Many more students have a lot of different perspectives on how the air quality affects them, their lives, and everything around them.
Jaden Shipley, a business major at COS, stated, "It definitely makes me sad that our Central Valley has to be going through [all] this because some dry trees and brush are catching on fire."
Shipley voiced her concerns about the fires, explaining that it felt like the outside world was trying to assault human's way of living. She commented that the fires have added to the atmosphere of tension on top of the pandemic.
Matthew Figueroa, a Chemical Engineering major at COS had a different approach, "Last year when the forest fires were really bad San Francisco got really red. It was cool[-looking] but scary."
The fire's release of carbon into the atmosphere has a negative impact on our environment, especially when there is a grey discoloration in the sky, but he marvels at the strangeness of how it makes the sun look. Almost like it's a planet from Star Wars. However, Mr. Figueroa resolves to only be outside for short periods of time, on bad air days.
Yadira Lucatero, an AG plant science major, and student said "It makes me feel mad and frustrated."
The extreme heat and drought have caused forests and vegetation in the valley to be fire hazards. Lucatero mentioned that if our fire departments had more water it would allow for them to fight fires better. She said that the fire season has made summers in California worse.
In 2021 alone there have been 7,003 fires related or unrelated to humans that have burned 795,000 acres according to Cal Fire. Until September 17th there are seventeen National parks being closed in California due to the wildfires, including the Sierra National Forest, and The
Sequoias.
The best thing we can do is prevent the fires before they happen. Through reducing vegetation, controlled burns, and reforestation. There are other things individuals can do as well such as clearing dry grass or brush from their homes, especially in fire-prone areas, and when lighting fires making sure that the coals are distinguished before leaving.
"We're letting Smokey the bear down," said Matthew Figueroa. Man-made fires are disastrous, the Dixie fire mentioned at the beginning has been ongoing since July 13th and it's only 55% contained–PG&E is suspected of starting the fire, after a branch fell on a telephone wire, and caught fire.
In order to make the air quality better for all students, it is essential we keep good care of our forests, and also take good care of our health. It is best advised to stay inside when the AQI is moderate or higher, which can be found using the link below to AirNow. AirNow tracks the AQI of areas all around the US and can help you find out if it is safe or not to be outside.
View Comments (1)