Giants preparing for new football season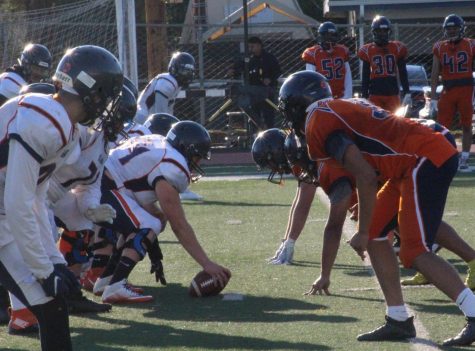 COS Football: Effects of Pandemic
By Spencer Beair
Our COS football team has seen the challenges that the pandemic has brought firsthand. Being tested every day of the week in order to play, wearing masks just like the rest of the COS campus, along with moving their weight lifting programs outside during the offseason.
Even though they are only required to be tested 3 days a week, players are tested 5 days out of the week, in order for them to be safe from the virus and to stay on the field.
Coach Burkett emphasized the importance of players staying home if they aren't feeling well, even if players tested negative that day it is still better for them to stay home and keep whatever is making them feel unwell at home, as it is not worth the risk for the player's and his teammate's health.
Another consequence of having fall seasons canceled last year, according to Coach Burkett, was that players were able to play spring football. This gave many players the opportunity to play in the spring just like many of their Division 1 counterparts get to do.
"We have some 'super sophomores' that are in their third year of development which is of course helpful. There also have been a lot of high school players who maybe would have chosen other programs given the opportunity if they had completed their high school seasons." – Head Coach Travis Burkett
Defensive Lineman Isaiah Jackson told me that players want to avoid missing around 3 weeks of football practice and playing time. It also has affected the workout routine of the players, who have to lift outside and wear masks while they do it.
"It has affected my workout routine because I can't really risk getting covid same thing with friends and family have to wear a mask in restaurants or public places 25/8 this whole pandemic is just messing up everything" – Isaiah Jackson
Due to covid, players have to be shown all that COS has to offer over zoom or phone call. Brent Davis, the athletic director here at COS mentioned that players had fewer opportunities to show off their skills due to high school seasons being either shortened or completely canceled.
They have had a lot of players joining all of their programs with very few transferring away from COS. This is clearly a discrepancy due to the pandemic, but many students are looking to make themselves known to D1 opportunities, which they could not fully do last year.
"There were fewer opportunities at Colleges and universities last year because students were preserving their eligibility due to covid. I think things will go back to normal this year and we will see pre-pandemic levels of students transferring for sport." – Athletic Director Brent Davis
Coach Burkett and Brent Davis both brought up that players and coaches now have to watch film on zoom, rather than in a class with each other. As well as that, the weight lifting programs have been moved outside to avoid the spread of the virus.
"Before COVID we used to watch lots of film together in classrooms. Now we watch film on Zoom together. We have also moved our strength and conditioning program outside and lift weights in outdoor settings." – Davis
Defensive Back Benjamin Haywood is another athlete who has had to live through these new restrictions from the program, although his scenario is a little different from other players.
"Everything is normal for me, I'm an out-of-state guy and I don't go many places anyways". – Benjamin Haywood III
He also added that the biggest difference is just the constant covid tests the players have to do.
"It hasn't really affected my workout routine, everything is still the same. Just Covid testing and everything but if you test positive, that's where all the problems come in at." – Haywood
As of now, vaccines are not mandated for players. However, Haywood explained that a couple of players (the exact amount was undisclosed) have tested positive for covid-19 and will be quarantined for about 2 weeks until they are found to be healthy.
COS Football will continue to grind through this season and be one of the best programs that the valley has to offer for young athletes. Good luck to our football team in facing the adversity that they will encounter, and GO GIANTS!
Leave a Comment