A Year Into The Pandemic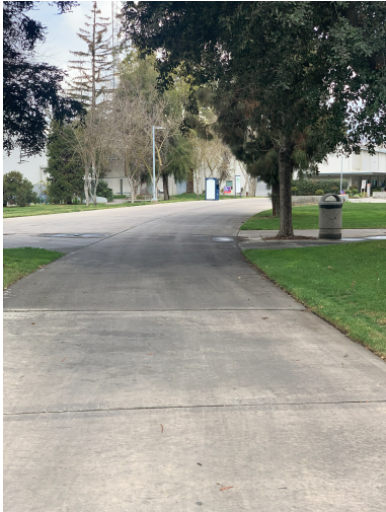 The California State Mandate requires all elementary, middle school, and college campuses to be shut down due to COVID-19 until further notice. It has been exactly one year since the campus shut down and still no in-person classes this semester.
Walking the empty sidewalks on campus feels like a ghost town. No students, no faculty, no tables or booths set up by vendors or student senate. Just an open quiet area surrounded by trees and buildings.
When will students be allowed on campus again?
The remainder of the Spring 2021 semester will continue to be held remotely online. Following this semester, the Summer classes will be offered 80% on-line with the remaining 20% moved to in-person instruction.
The pandemic has impacted a lot of faculty and students over the past year. The transition from in-person classes to online was the biggest struggle many faced. No one really knew how to go about it, just the fact that an online class was stressful to some professors and students.
When the email came in that the campus was to be shut down, professors didn't know how to react. Those professors that never taught online must move all their in-person instruction to an online format. Professors only had two days for this transition before classes resumed virtually on that Monday morning.
Some students saw this shut down as beneficial because they don't physically have to attend class. Just hop on zoom from anywhere without having to be on campus. They can go about their daily lives, do their schoolwork whenever, and still have that freedom without having to sit in a classroom.
Other students saw this shutdown as not being beneficial because there isn't that immediate interaction between professors when it is needed the most. The interaction between the student and the professor isn't the same as it would be in a classroom. The relationships that were made on campus, the resources that were offered, and the events that all occurred throughout the day are something that got put on hold due to COVID.
The semester of Fall 2021 is going to look a little bit back to normal. The Campus is allowing 50% on-line classes and 50% in-person class interactions. As faculty prepare for the rest of Spring and fast forward to the Summer and Fall semester, all students must wear face coverings for the entire duration of their stay on campus.
Vice President of Student Services Jessica Morrison states, "We will have boxes on campus filled with masks, so if a student somehow forgets theirs, the campus will have them provided before entering the rest of campus."
Faculty and students should continue to practice social distancing guidelines once returning to campus. Washing hands, using sanitizer, wearing masks, and most importantly, staying home when feeling under the weather are all precautions and protocols when in-person learning resumes this coming Fall.
For more information regarding COVID-19 guidelines around the campus visit ,https://www.cos.edu/en-us/student-life/health-services/coronavirus
Leave a Comment