Black Diamond Queens
"Writing a book that you wanted to read. . . I wanted to read a book about women who had been in this terrain…"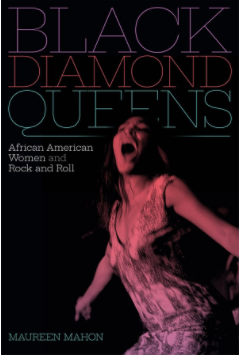 Maureen Mahon, an educational anthropologist and associate professor in the Department of Music at New York University, recently published a new book, Black Diamond Queens, which tackles the significance of black women's involvement in music history.
Reduced by a white-male-dominated industry, Mahon speaks out on the cultural influence of black musicians such as Tina Turner, Merry Clayton, Labell, Big Mama Thorton, and many more.
"Writing a book that you wanted to read. . . I wanted to read a book about women who had been in this terrain… I could find bits of pieces of this story. I could hear some academic conferences of people talking about them, but I wasn't aware of a book where they were all in the same place, linked together, and connected through a discussion of their experiences, and their challenges, and their successes, and their frustrations." – Maureen Mahon.
Documented sources such as press coverage, recordings, interviews, and archival materials draw on the records of African American women in rock and roll. Black Diamond Queens addresses the grounds of the genre's influences from these vital black women who've played crucial roles in the music industry during the 1950s – 1980s.
With her articles emerging in academic publications and on websites such as the Rock and Roll Hall of Fame and National Public Radio, many are again not surprised by Mahon's excellent execution in Black Diamond Queens.
A reviewer from Goodreads, Kori, stated, "White rockers who became synonymous with the genre built their sound on the techniques and creative visions of musicians like Big Mama Thornton, LaVern Baker, The Shirelles, and Tina Turner. And yet these Black mentors and collaborators were pushed further to the margins. Mahon puts them where they should have always been: front and center."
Authors of Bodies in Dissent: Spectacular Performances of Race and Freedom, Daphne a. Brooks said, "The book that's poised to set rock history free. Maureen Mahon's Black Diamond Queens sets the record straight by offering a meticulously detailed study of the ways in which Black women musicians and entertainers played pivotal roles in the birth of the genre and fearlessly revolutionized the form. Essential reading for anyone who cares about popular music culture."
To learn more or purchase the book visit, https://www.dukeupress.edu/black-diamond-queens.