COS Bands Keep Music Alive From Home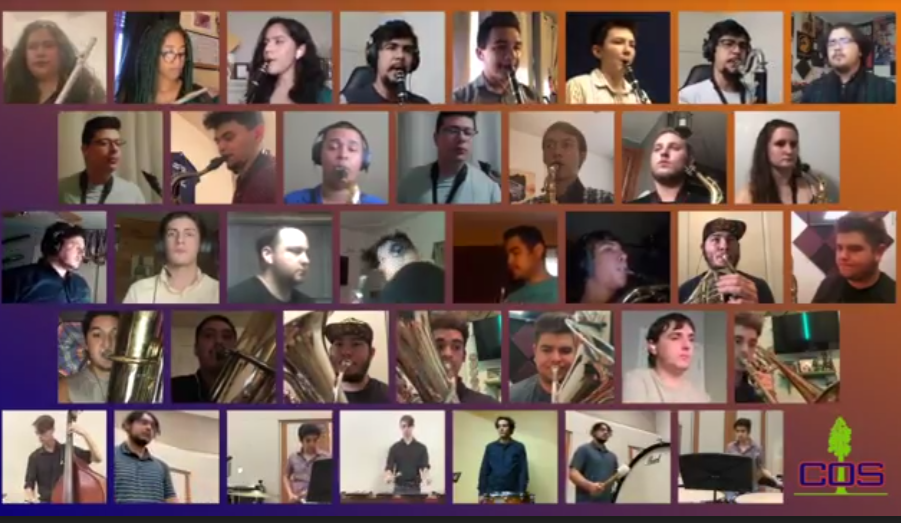 The campus shutdown was devastating for the COS Symphonic Band who had to cancel their concert the week before the shutdown occurred. It was a transition for everyone involved but after months apart, these musicians were able to play together once again thanks to technology.  
The Symphonic Band and Community Band were both able to create virtual ensemble videos of "Drive" by Patrick Roszell and "Spitfire" by Gary Gilroy using a combination of high quality microphones, video recordings, and music provided by director Michael Tackett.
"The process all begins with the COS band director, where he first searches for a piece of music that will work well in a virtual ensemble situation." says Vincent Keenan, who was responsible for putting the videos together. " In a virtual ensemble where the musicians are in different locations with less opportunity for communication, the music needs to be more consistent and predictable, but still challenging for the musicians."
Keenan creates a "click track" for the musicians to play along with, which they do using headphones so the video only picks up their instruments' audio. These videos are then approved by Tackett and sent to Keenan to mash together into one video using ProTools to mix the audio, Final Cut Pro to edit the video, and Photoshop to create the graphics. 
The switch to online has affected not only the way musicians perform, but how they practice. "One struggle is not being able to have good practice sessions with anyone. When you can't practice with someone in person for a duo then your piece will not come out the way you would want it." says Joshua Garcia, clarinet player. 
"This type of project can never take the place of real live music, but it does give the players a chance to keep in playing shape, to continue collaborating, and give everyone the ability to create group art while "social distancing"."says Keegan "It's something tangible and definitely worthwhile."
"Being a part of a virtual ensemble is definitely a new experience; but it was  a very educational one." says Gustavo Romo Jr, Trombone player. " It allows us musicians to take a whole new approach on performance and performing our symphonic pieces."
Due to copyrights on the music, the videos of these recordings can only be shared for thirty days following their initial release.You can view the videos on the COS website until November 5th.  The band is expected to do at least two more pieces this semester