Online Instruction Expected To Continue According to Community Colleges Conference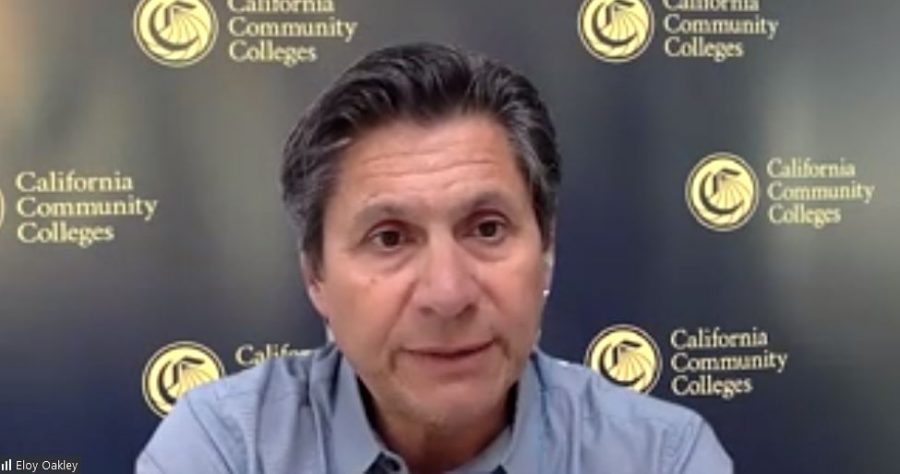 Remote operation of college campuses is expected to continue into the Fall and could continue beyond that point according to Eloy Ortiz Oakley, Chancellor of California Community Colleges . 
The California Community Colleges held a press conference open to student journalists and faculty members of community colleges for information regarding the current state of remote operation, Fall semester, and beyond. Speakers included Chancellor Eloy Ortiz Oakley and Marty Alvarado, Vice Chancellor of Educational Services and Support.
Chancellor Oakley advised during the conference that students should be prepared for online classes to possibly continue longer than anticipated stating, "our horizon is Fall right now, but we need to look beyond that horizon,we need to be prepared to be online in some form or fashion for probably the rest of your academic experience. Not only community college, but for university if that's where you're going."
The chancellor assured that students will be able to receive resources they need to be able to graduate and succeed in an online format, "we will continue to work with colleges to ensure that our students have as much access to tools and the instruction and the labs that they need in order to be able to perform." However, he did disclose that fees and tuition will not change as a result of online instruction. 
In reference to the fine arts and other programs that require lab work or performance, Vice Chancellor Marty Alvarado informed that California Community Colleges is working on ways to make it possible for students to continue their education in these departments. She stated that we will just have to get "creative" in how we go about performances and lab work. 
Sports and club activities will continue, however Chancellor Oakley cautioned that "athletics will look very different in Fall, lots of activities that you are used to will look very different in the Fall."
Chancellor Oakley also provided that how colleges make decisions on reopening and social distancing is dependent on your local area. Some communities are slowly reopening while others are not, so how or when each community college will determine actions depends on the progress of the local surrounding area. 
While much is up in the air, it seems likely,according to the conference, that remote operation will continue into the Fall and we should be prepared for it to possibly go beyond then. Chancellor Oakley concluded the conference providing some encouragement to students,"our community college students are the most resilient students on the planet because you've had to be resilient all your lives. So, let's just keep working together, hanging tight with each other, pushing forward, and we will get through this."