California's Governor Jerry Brown is hesitating from signing a bill that will provide free bus passes for community college students in California. The California Legislature wants to pass the AB-17, the transit pass program:...
October 17, 2017 • No Comments
Your old Autumn clothing can fall into the mitts of those who need it on Oct.18 from 1 a.m. to 3 p.m. at the Tule building room 503 at the COS Visalia campus. Fashion Club's "Fall Clothing Swap." During this completely...
October 17, 2017 • No Comments
Jesenia Orozco, Reporter
Tips on maintaining a healthy lifestyle is the theme of the COS Health Fair this Wednesday, Oct. 18 from 10 a.m. to 1 p.m. The Health Fair will include booths from health services from here on campus and the community. Candice...
October 17, 2017 • No Comments
View All »
Michael Taber, Reporter
Overcoming obstacles is nothing new to COS dance director Imara Quiñonez. Quiñonez grew up in East Los Angeles and had to overcome the negativity of those around her who told her that she could not achieve...
October 17, 2017 • No Comments
"O Romeo, Romeo. Wherefore art thou Romeo?" - William Shakespeare This quote is from one of the most famous romantic scenes in literature, where Romeo climbs up to the balcony, as the love of his li...
October 8, 2017 • No Comments
Dominic Duarte, Reporter
Hurricanes, melting ice caps and record high temperatures are common occurrences in the world. Scientists who have studied climate change for over 10 years estimate these common occurrences would happen....
October 4, 2017 • No Comments
2017's Miss Tulare County sits down with TheCampus for a Q&A
April 17, 2017
Victorino Cervantes's Lindsay Art Gallery
March 20, 2017
New Cafeteria Manager Shares his Life and Plans for COS
March 2, 2017
School WiFi Slowing Down Students
November 21, 2016
History major born in the wrong decade
November 16, 2016
View All »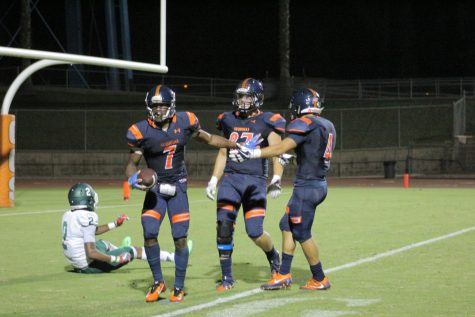 A high-scoring game between the COS Giants and Diablo Valley Vikings ended with the Giants winning 40-35. The night started off great for the Giants football team with a 45...
September 21, 2017 • No Comments
Since the third grade, Shelley Duncan knew his fate was it baseball. "When I was 8 to 10 years old, that's when I knew I wanted to do something in baseball," Duncan said. ...
May 17, 2017 • No Comments
The College of the Sequoias softball team clinched a playoff spot with its doubleheader sweep of Merced on Thursday. In game one, Merced jumped to a two-run lead scoring in...
April 24, 2017 • No Comments
Giants avoid series sweep in Fresno
April 24, 2017
Swim & Dive capture title at Conference Championships
April 24, 2017
Roundup: Paradine shuts down Reedley and Track set to compete in Stanford Invitational
March 30, 2017
View All »
Arlyn Mendoza, Managing Editor
Once again the Lego marketing team convinces parents to buy Lego products for their children. 'The Lego Ninjago Movie', written and directed by Bob Logan and Paul Fisher...
October 4, 2017 • No Comments
"This movie will change you after you watch it." That was the tag line for the promotion of this movie. It may not change everyone but it will leave audiences talking ...
September 25, 2017 • No Comments
Everyone in the COS auditorium took their seats on the flat stage, conventionally exclusive to the actors they paid to see. This new, peculiar seating arrangement the aud...
May 8, 2017 • No Comments
Embed from Getty ImagesThere are a lot of films coming out this summer: blockbusters and the latest super hero flick, but those aren't the films I'm looking forward to. It Comes at Night (2017), a horro...
May 2, 2017 • No Comments
May Film, TV & Video Games Preview
May 2, 2017
13 Reasons Why- Netflix Series Review
April 27, 2017
Giant Desk Concert – Brendon Reese (Call Me James)
April 27, 2017
Free Fire Review: Doesn't Quite Hit the Mark
April 27, 2017
View All »