Drive-Thru Celebration for Class of 2021
COS staff members came together to host a pre-grad drive-thru celebration for students who chose to participate in the Commencement Ceremony taking place on Thursday, May 20.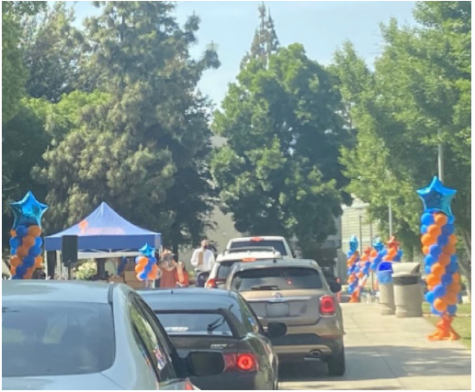 For this event, COS students had the opportunity to drive-thru the campus that was decorated with balloons and other decorations. Staff members were cheering while waving pom-poms and congratulating students with their masks on as they were driving through the campus.
Before reaching the end of the drive-thru, students received a bag with a variety of COS gear such as a lanyard, COS pendant, and much more along with a class of 2021 yard signs to display their accomplishments.
The event took place on Thursday, May 6 from 10 AM -1 PM at the Visalia campus and was an invitation-only event for students who are participating in the Commencement Ceremony. Attendance was optional.
This event celebrated the graduating class of 2021 early before the event on May 20.
If you were not able to attend the event, you are still able to pick up a bag with COS gear and a yard sign on the day you pick up your tickets for the Commencement Ceremony.