Movies During a Pandemic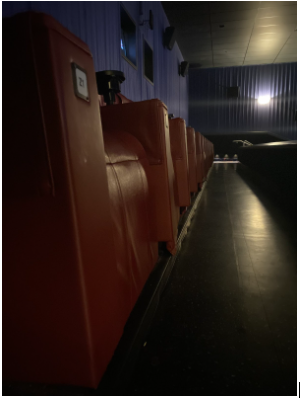 As Tulare County begins to open back up with businesses and attractions, one major activity being the movie theaters, is it a good idea to get a ticket right now though?
In my honest opinion, it's a good time. Although you have to reserve your seats with the exact amount of people going, it's worth it, you get two seats open on both your left side and right side to follow CDC guidelines and the theater is cleaned thoroughly after each show session.
Movie theaters are hard at work keeping the same feeling while being able to maintain guidelines to keep customers coming back and safe. Not only does the seating follow the guidelines, but the concessions are also just as safe for both the customers and the workers.
The counter has a shield for each register while the popcorn has a lid that can be re-attached and removed. As for the concessions line, it wasn't bad. The lines went fast and you get all your snacks and food fast enough to watch the beginning movie credits. Do you want to take some popcorn home? That's not a problem, they still offer refills on large popcorn, and the experience is almost the same as before the pandemic.
Looking back at when I went to the theater, everyone was respectable about safety. Not once had someone taken off their mask in front of the concessions, not only was it respectful, but there was motion sensor hand sanitizer going into the theater, into the actual movies.
I prefer how the theater is now compared to how it was. It's not too packed and it's pretty nice to not worry about sharing an armrest with a complete stranger. I feel like this is something for everyone to try at least once and experience how relaxed it is now.