Taylor Swift's evermore: The Perez Review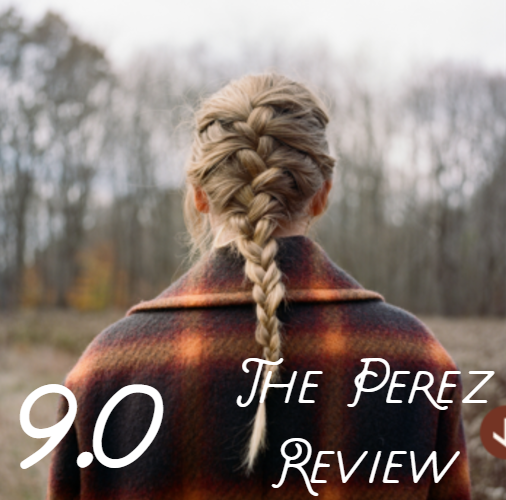 Admittedly, even as a Taylor Swift fan, when I read the announcement for evermore, I thought, "another album?" However, I was pleasantly surprised by the sister album. 
In July, Swift released her album folklore with no prior promotion, it was a complete surprise release coming out the same night as its announcement. The album was met with large scale praise even scoring an Album of the Year nomination for the 2021 Grammy Awards. 
With the large-scale acclamation of folklore and it's surprising release, new music was not expected out of Swift for quite some time, but she blindsided everyone again by announcing another album: evermore. It once again released the same night as its announcement and, according to Swift, is a sister album to folklore. 
As exciting as a whole new album can be, going into evermore there was still some hesitation. I worried that it would not be able to live up to the triumph that was folklore and it would fail to have the same captivation. 
On initial listen, my worries weren't cleared or resolved. The album's sound and experimentation threw me off, however upon revisiting the album multiple times my worries were taken away.
While I do think evermore will live in folklore's shadow a bit due to its massive success and masterly crafted somber atmosphere, evermore still pulls its weight as a well crafted album.
The sound of evermore is both familiar yet different. It carries the same cottagecore vibes as folklore and continues to use mostly live instruments such as piano and guitar, but is overall much brighter than folklore. 
Even in evermore's more blue tracks, the instrumentals are much more bright sounding. Folklore carried a somber and almost damp atmosphere, but evermore, while still carrying an atmosphere, is brightly sad, almost like these stories are being told at a holiday party or Swift is reminiscing after already having moved on. 
The instrumentals on evermore features some of Swift's most experimental work. Many of the tracks open or close with distorted digital sounds. This type of thing isn't exactly new, but new to Swift. The only other time she has played with this sound was on the outro of folklore track "cardigan." 
Second to last track "closure" features the heaviest experimentation on evermore with an industrial inspired intro that carries out into the song's instrumental. At first the sound is very abrupt, but upon listening to the track multiple times you come to appreciate it. 
Overall, the instrumentals and experimentation on evermore pays off, but it isn't necessarily air tight. There are some tracks that sonically are a bit harder to fully immerse into such as "dorothea," "cowboy like me," and "tis' the damn season." With "dorothea" and "cowboy like me," the songs are good, but melodically have a strange pattern and create an awkward first few listens. "Tis' the damn season" has a crisp, 2000's sounding electric guitar instrumental, but the melody is somewhat one note, so it sadly becomes less appreciated. 
Lyrically, evermore is stellar, but from Swift that it is not shocking. Swift has quite the reputation for her song writing skills and folklore featured beautiful storytelling. Evermore returns to the realm of beautiful storytelling, but is arguably a bit more fun and country inspired. 
Country music often features lyrics that aren't necessarily about the singer themselves, but rather other people they know or even sometimes fictional stories. That is the case several times in evermore on tracks like "champagne problems," "ivy," and "no body, no crime."
"Champagne problems" is about a woman turning down a wedding proposal to the shock of friends and family, "ivy" details a wife's emotions as she falls in love with another man who is not her husband, and "no body, no crime," the most country sounding track on evermore, is about getting away with the murder of a friend's cheating husband. 
In the tracks where Swift does speak from personal experience, the lyrics are extremely poetic and pull on your heartstrings. "Long story short" gets you dancing, yet still features lyrics about Swift's personal life that place you right into her shoes with her feelings of peace after struggling. 
"Tolerate it" is arguably one of Swift's saddest songs yet. While being an intensely pretty song with its picture painting lyrics and earworm piano instrumental, it is also heartbreaking. The lyrics detail doing everything you can for a lover and making them your all, yet getting no reciprocation in return, Swift singing, "I know my love should be celebrated, but you tolerate it."
Evermore is not folklore, folklore is a masterpiece of an album that is hard to duplicate in quality again. This does not mean that evermore is not good though. Evermore is definitely not as genius and masterful as folklore, but is still a solid body of work from its bright folk inspired pop sound and playful yet insightful lyricism. 
From reviews, evermore has received mostly good feedback similar to, but not to the same degree, as folklore. The Perez Review gave folklore a 10 out of 10, but for evermore it is a 9.0.
The Perez Review is a music review column written by Elijah Perez.
The Perez Review ratings:
1.0-3.9 = Poor/Bad
4.0-6.9= Decent
7.0-8.9= Good
9.0-10= Explementary