Jordyn Williams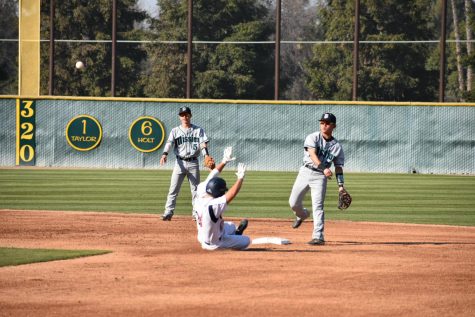 It's seven games played and won for Giants baseball this year as the team picks up another win, this time against the Mission College Saints (1-4), 6-2.
This win puts the Giants at 7-0 on the year, having the best overall record out of all Centrall Valley Conference (CVC) teams so far. This  is also COS Baseball's best start in more than 7 years, and their longest winning streak since the 2014 season.
A big 5th inning gave the Giants the lead, and they didn't look back. A double from shortstop Payton Allen, a single from center fielder Donte Valdez, and multiple errors by Mission allowed designated hitter Cade Sakamoto and first baseman Flavio Perez Jr. to reach base. This gave COS three runs that inning to regain a lead they never gave up.
Plenty of insurance was provided in the 8th inning as well, with runs scored by Perez Jr. and right fielder Maverick Souza giving the game's final score of 6-2 that sealed the deal for COS.
Well-rounded pitching from right-hander Jaylen Rodriquez prevented the Saints from getting back in the game late as well.
Rodriquez pitched 5 innings, only giving up three earned baserunners, zero runs, and struck out 6 batters for his second win this year. Benjamin Pederson started, giving up 5 earned baserunners, as well as two runs and a home run from Mission's Mark Fairweather.
Baseball action continues Friday, February 7th at 1:00 P.M. versus Golden West at home, and Saturday, February 8th at 12:00 P.M. with a rematch against Mission College at home as well.