Giants Hope For Comeback Against Santa Rosa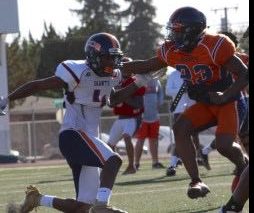 Already COS has as many wins as they did last year, as they have started this season 2-1. First, getting an overtime win at home against Feather River 30-24. Quarterback Gus Villareal played a great game, throwing for 374 yards and 3 touchdowns and Wide Receiver Bryson Allen had only 4 catches, but had 126 yards and one touchdown.
A week later, they went on the road and looked like a completely different team getting demolished in a 38-6 route.
And just recently they went on the road to play Siskiyous winning 36-16.
However, it wasn't all bad considering the Giants had several players who had solid games. Wide Receiver Bryson Allen didn't have the yards he did in the previous game, but still played well. Defensive Back Bobby Peele who had his second interception in just two games. Defensive Back Anthony Cervantes who had 8 solo tackles, which lead the team in tackles. Defensive lineman Noah Wright who had 6 solo tackles which is very good for his position.
The Giants will play their first prime time game at Mineral King Bowl next week against Santa Rosa at 7p.m.