Professor Tootle Recognized County Wide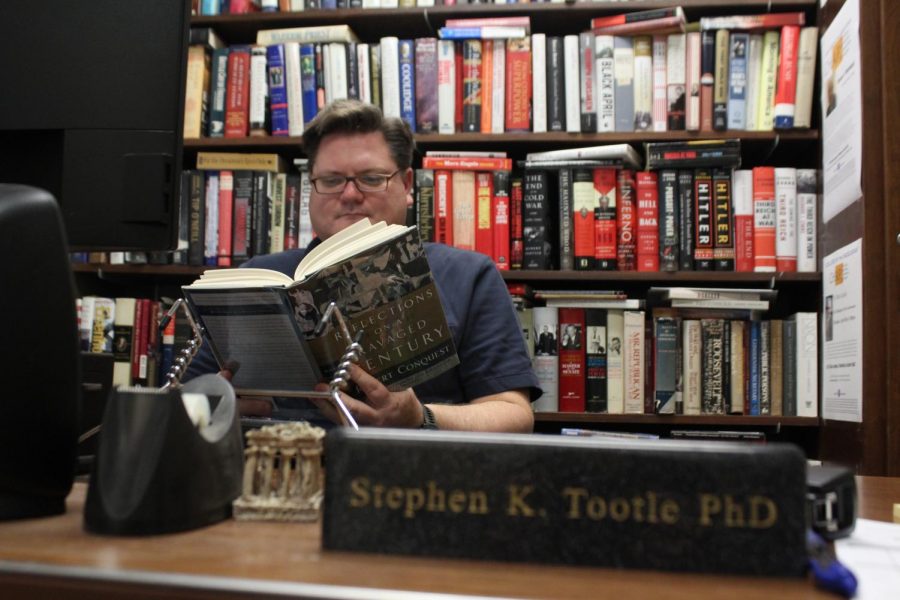 Issac Luna, Reporter
April 9, 2019
Professor Stephen Tootle received the Reagan Award this year  at the annual Lincoln Dinner. This award is in recognition of service to the Republican party.
Professor Tootle attended College of the Sequoias as a student in 1992, he then transferred to Cal Poly SLO where he earned his Bachelor of Arts degree, then to CSU Fresno for his Masters, and finally to Ohio University for his Doctorate. After those accomplishments, he made his way back to Tulare County and the COS in 2007.
When he started teaching at COS, he restarted the College Republicans on campus. This group of students, which Dr. Tootle advises, has been part of congressional campaigns for Devin Nunes, David Valadao, and others as interns or hired employees.
"[The COS chapter of College Republicans is] the first or second largest and most successful chapters in the state," Tootle said.
Tootle also says that when a member of the College Republicans apply into the UC system, there is a 100% acceptance rate to that student's UC of choice.
Nathan Harper, President of the COS College Republicans is grateful for the support and publicity given to Professor Tootle.
"[Professor Tootle is] a good advisor, and he deserves the award," Harper said, "he keeps the club active by giving them a shout out in his history classes and even brings some people in."
Casey Reeves, College Republicans Treasurer, applauds him for being so available to his students.
"He is very invested in his students success," she said, "no one deserves it better than he does."
Although he was happy to receive the award, Tootle said he was accepting it more so on the behalf of the students whose hard work is what led to that moment.
The College Republicans meet on Tuesdays from noon-1 p.m. in Sycamore 205.