Giants Make It To Elite Eight, But Fall Short
Jared Salcedo, Sports Editor
March 21, 2019
After being the only school to place both men and women teams in the Elite Eight, the COS teams exited the state college basketball playoffs last weekend at Ventura College.
Battling top-seeded Moorpark to the end, the women fell 66-58 behind cold shooting.
The Giants shot 12 percent (3 of 25) from the three-point line and 33 percent overall. The cold shooting and 10 less trips to the free throw line sealed the ladies exit. They finished at 28-4.
Janelle Sumilong stood out with 19 points, eight rebounds and five assists. Alayshia Reed banked 13 points and Dejanee Gill grabbed 5 rebound and dealt four assists.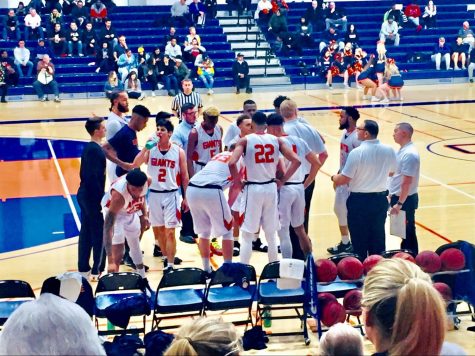 The men's  season came to an end losing to second-seeded Citrus College 70-59.
A cold shooting first half put the Giants (22-9) at a 10 point deficit, 35-25. They battled back to pull within seven with three minutes to play, but Citrus hit their free throws and couple of three-pointers to pull away.
TJ Givance led the Giants with 15 points and seven rebounds, Keshawn Gibbs added 10 points and six rebounds and Jarell Holmes chipped in six points and five rebounds off the bench.