Behind The Ink: A Look At COS's Quill Club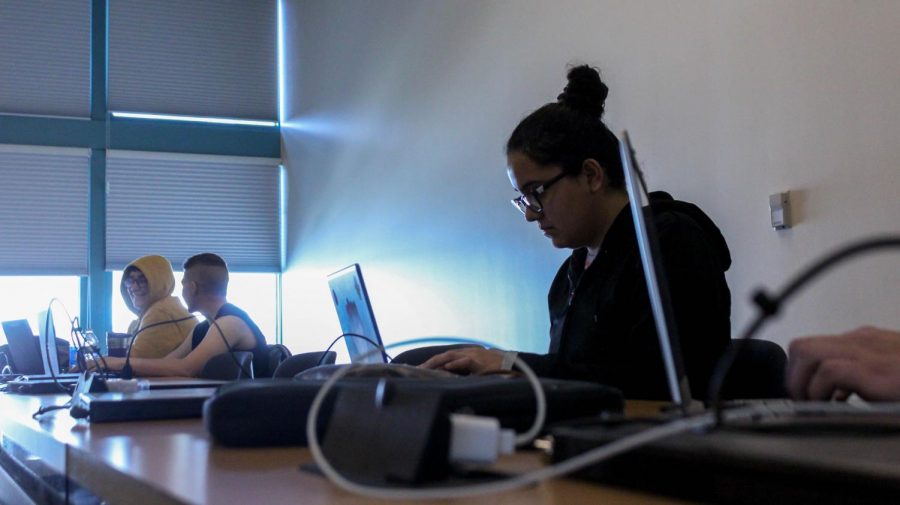 Markis Turner, Copy Editor
March 21, 2019
In the library, there is a place for students to not only satisfy their creative cravings, but vastly improve their writing both in and out of the club.
The Quill Club is the creative writing club on campus. The club has two English professors as their advisors, Christina Lynch and Jamie Moore. The two have been advising for the club for four years, but before they volunteered to advise, the College of the Sequoias' creative writing club was on a downward spiral.
"The club had gone dormant for a year or two before we stepped in and revived it. We felt that COS needed a creative writing club, that it was absolutely necessary to have a space to share and create," said Lynch.
This kind of space was exactly what Audge Osborne, the current president of the club, needed. Osborne joined the club with a friend during a Club Rush on campus in 2017. Osborne hoped to learn how to sit down and get her work done.
"I couldn't make myself write. This kind of forced me to write, maybe not what I liked at first, but forced me to write in general," said Osborne
The vice president, Catherose Tattersfield, initially joined for the love of creating writing, along with the hopes of getting published.
"I love writing poetry, and I'd really like to get my poetry and short stories published. This club is a great opportunity to do that," said Tattersfield.
The Quill Club publishes their collective works in booklets filled with writing from the club twice a semester. They also publish a compendium once every spring semester that they dub the "Giant Squib."
The Quill Club, in collaboration with Puente, a program dedicated to helping under-educated students transfer to universities,  is hosting the Watchale Literary Festival at COS all day on April 6. At the festival will be writers from around the valley and lectures about writing.
There is no formal process to join the club. One is free to attend any meeting of theirs in Lodgepole 205, on the second floor of the library.
"You show up, you're in. We are very welcoming. You don't have to attend every meeting, it's a 'drop in' club," said Lynch.
The club meets every Wednesday from 1-3 p.m in Lodgepole 205.