Carlota Marin: A Lifetime of Substance and Experience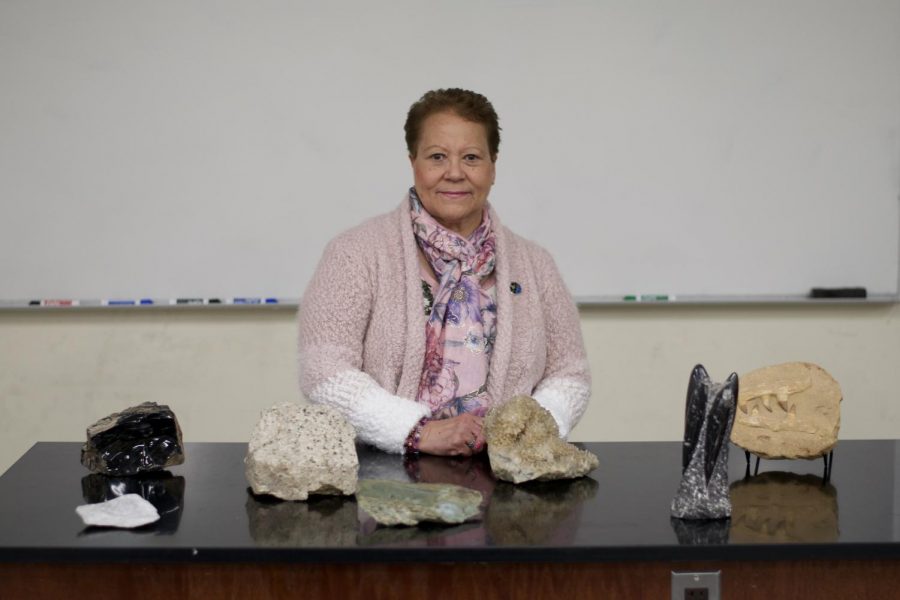 Arlyn Mendoza, Reporter
March 18, 2019
Following her cancer surgery. Carlota Marin's friends came to visit her in the ICU. They brought in a stuffed moose to comfort her. She asked "Why a moose?" Her friends justified the moose by explaining that all moose appear to be smiling just like she was despite her hardships.
Having survived cancer twice and becoming an orphan at the age of 9 in Venezuela, Marin's life has taken her on unforgettable journeys. She did  field work in the Amazon for six months, worked with NASA and flew over Angel Falls, the world's highest waterfall.
Marin's journey of life began in Venezuela. She remembers always having an interest in science.
"When I was close to five years old, I opened up a lizard," said Marin.
Marin was intrigued to see how it was breathing and how its heart worked. Growing up she questioned why cockroaches laid so many eggs and why ants form colonies. Her mother was gone and her brother and sister never liked science, so she turned to her teacher who was always willing to answer her questions. That teacher and many other science teachers played a great role in her love for science.
"I'll always be curious about why things happen," said Marin.
Marin was the first student in the "Universidad Pedagógica Experimental Libertador" or Libertador Experimental Pedagogical University to receive a scholarship from the government of Venezuela to pursue her education in the University of  Nebraska-Lincoln. Marin got her Bachelor's in earth science with a minor in biology, chemistry, and physics. She obtained her Master's in Education in geology and she completed all of her course work for her Ph.D in education and engineering.
"I got to Nebraska where it's cold and then moved to Kansas and got a job with NASA, I moved to North Dakota and now I'm here in California," said Marin.
While at NASA, Marin worked as a STEM specialist and went through Arizona and California wherever NASA needed her to do programs. She visited various schools and worked with teachers and students connecting NASA research with the classrooms core activities and instructing teachers how to convey concepts through simple activities. Marin was one of the few Hispanics working in the area for education in NASA. She expresses that her time at NASA was amazing. Marin got to meet Edwin Eugene Aldrin Jr. or "Buzz Aldrin," the second man to walk on the moon.
Marin got to work with the whole island of Puerto Rico as she was the only one who was bilingual at the time. She was able to do her programs in Spanish and it was at the island where she experienced her most memorable event working with NASA. While doing one of her programs, Marin pulled a young student from the audience to try on a space suit helmet. Marin had no idea about the impact she had on the student. The student's teacher had later confessed to Marin that the student was having behavioral problems and was having trouble in school. The students father had lost his legs and everyday after school he would go out and help his father sell oranges on the streets.
"When I pulled him from the audience it was a chance at life for him," said Marin.
The last day Marin was in Puerto Rico the student gave her a teddy bear that she still has and cherishes 27 years later.
In North Dakota, Marin worked at a tribal college where she taught Native Americans, she was the first Hispanic to work at that college. The position opened due to a grant from The National Science Foundation. At the college, she taught space science, oceanography, biology, technologies in the classroom and geology.
Many of her students had never left the reservation before Marin took them on a field trip to the backlands of  North Dakota. The Native American tribe accepted Marin as one of their own. Marin still holds her time in North Dakota as an amazing experience.  
Given the distance from Venezuela, Marin keeps in touch with her family all the time.
"I miss them.I miss home and I'm hoping that the whole situation in Venezuela ends so I can go and see my family," said Marin.
Venezuela's political crisis does not seem like it will end soon with President Nicolás Maduro refusing to leave and blocking humanitarian aid to help with the country's food shortage. Marin shared that her people and her family are starving. Her family back home works but it is just not enough.
"I work hard and I am grateful to the college for doubling up my section, with the extra money, I send it to my family," said Marin.
Marin is always there to help her family financially. She saves as much as she can making sure she does not spend money on theatre tickets or going out. The only reason she still drinks coffee is because her friends give her Starbucks gift cards. If there happens to be an emergency back home she will be able to provide the aid.
"Whoever needs help I help them too," said Marin.
She donates a lot of her clothes and feeds homeless sometimes. She prepares sandwiches to give out. Her voluntary nature comes from her mother.
"She used to do that in her neighborhood, she would help anyone who needed help," said Marin.
Since joining the American Cancer Society, Marin has done a lot of volunteer work. She loves taking nature pictures as a hobby. With these, she makes collages and sells them. Using the money from her collages, she buys stickers and sends them to the children with cancer in Omaha, Nebraska. She is currently focusing on the Children's Hospital in Los Angeles sending them uplifting items. Marin is not sure how she will do it but she wants to start a campaign called "Moose For Cancer." She wants to start buying moose plushies or figurines to give to anyone who is diagnosed with cancer.
Back at COS, she teaches earth science for educators. The class focuses on students who are going to teach primary grades to sixth. She teaches her students conceptual science and conducts hands-on activities they can use in their future classrooms. She wants to make sure that her students are well prepared when it is time for them to move on. While Marin is currently a part-time faculty member, her impact on COS is greatly embraced by many students. She raises her voice on concerns about preparing community college students better and getting more programs. She helps students apply for NASA internships and mentoring them through their process. Her classes are always full and she hopes the college could open up more space for her classes to take place in the mornings and not just in the evenings.
"I don't want my students to just learn the content. I want them to learn how to appreciate who they are and the potential they have and to find the strength within themselves to be the best they can be," said Marin.
Marin believes that's what she has to do. She believes in encouraging her students to be more than what is expected. Not having her parents during childhood, she needed to find her own strength. Her mother told her once that she wanted Marin to be the best she could be, and that is what she wants her students to do.