Tennis Club is a Love Match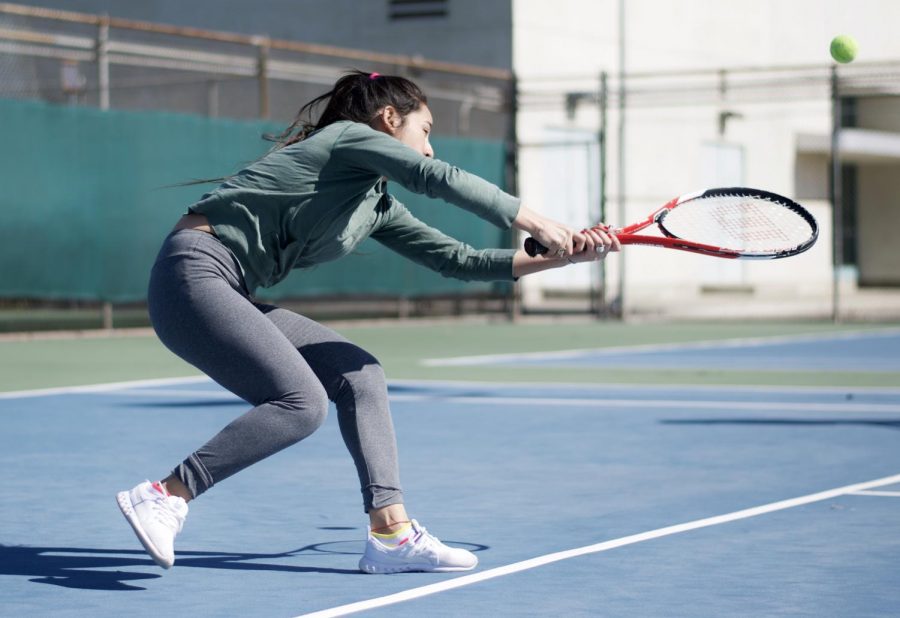 Arlyn Mendoza, Reporter
March 4, 2019
When Mac Mcginty enrolled in the COS Tennis course, he was faced with a problem. Outside of class, there was no other way for him to play tennis as there is no Men's Tennis team. The Tennis Club did not exist. Mcginty asked himself how could he play more tennis. The answer, start a tennis club.
"If you want to have a club, you have to start one," said Mcginty.
Starting up a club at COS does not happen overnight. Mcginty had a mission to get signatures, find two faculty advisors, write bylaws, write a constitution and get administration to sign off on all of the paperwork. Lastly Mcginty had to go to the Student Senate to present his club project. The Student Senate then had to vote on the proposal. After all the work Mcginty had done, he had a Tennis Club.
"I was so proud of the club charter, that I got it and framed it at home. Considering you're the guy the guy that started it you might as well be the president," said Mcginty.
The primary club sponsor is Nurse Cynthia Norvell,  the secondary sponsor is Janelle Spencer who is a business professor. At times both Janelle Spencer and her husband Paul go out to play tennis with the club members. The club's bylaws state that any current student and or staff can join the club. The club has seen a recent spike in faculty taking advantage of courts in recent meetings.
"It's neat to have that kind of interaction with students in this kind of setting, it's just so fun," said Mcginty.
While there is a tennis team for women there is not a team for men. The men lost their team due to budget cuts and funding issues. All of the funding went toward the Women's Tennis Team. Mcginty knows that if there were a Men's Tennis Team some of the club members would be out there competing.
Destiny Canchola is a full time student majoring in Biology, she plays for the Women's Tennis Team and is a member of the Tennis club. Canchola goes out to the courts to practice with the club before matches.
"It takes a lot of the stress away when I come here to have fun rather than compete," said Canchola.
Canchola has felt a mental improvement since she joined the club last semester. When it comes to competition she finds herself in a challenged spot. She feels like she cannot be free or relaxed.
"When I come out here it's the best feeling because I am not so pressured to win the game," said Canchola.
Canchola says she will continue attending the Tennis Club even after her season is over.
The most notable difference in the club since it first began is the amount of people that show up. At one time there were 41 students and staff on the courts. People go to courts every Friday for various reasons. People go to have fun and play tennis of course. Others go to make friends and to relax. The competitive spirit is still alive on the courts. The club holds games and they keep score.
Students and faculty go out at any skill level. Fellow club members teach each other how to hold a racket properly. The club teaches its members about scoring and the layout of the court. Mcginty has two rules when playing tennis. One, get the ball over then net. Two, when you go to serve, put it in the box.
"Once people start doing that a couple times they start building confidence," said Mcginty.
The Tennis club continues to meet every Friday from 10am to 12pm as long as it does not rain. The club continues to grow but still welcomes any student or faculty member at the door.
"We are all out here just to have fun." said Mcginty.