COS District Police Receive New Police Crusiers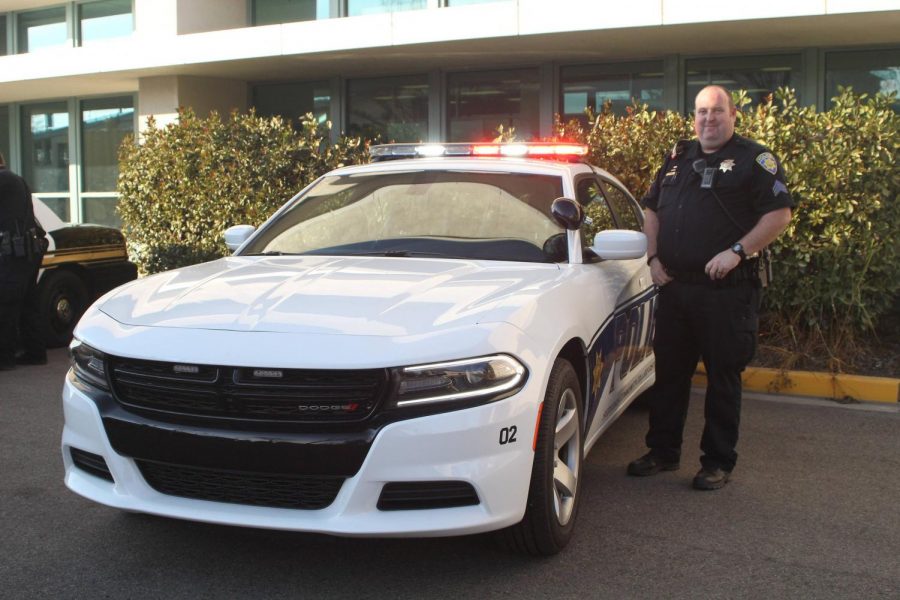 Louie Vale, Photographer / Reporter
February 7, 2019
(Visalia, Calif.) — COS District Police Sergeant, Donald Charles, was the first of three officers to try out their new 2019 Dodge Chargers.
COS Sergeant, Donald Charles talked with the board in effort to get brand new vehicles. The District Police department set up a budget with the vice president and president's office to see if they can get approved on the new equipment and reliable cars.
This year, The budget they submitted for a proposal for two additional cars was later approved by the president's office that would bump up to 4 brand new vehicles along with 5 officers. Their goal? Getting new vehicles that is going to spread out the life on their new cars and cut down on annual repair costs.
The District Police spent about $72,000 in total value purchasing 3 additional police cars with equipment, radios, paint scheme, and safety features installed.
"With this new vehicle," said Charles,"a V6, we'll be able to have great gas mileage and less strain on the battery in the Charger.. One thing i've noticed in the back seat of the Charger, they come with the window bars and then the Proguard back seat. I find the backseat is useful because in case a prisoner stashes something under the seat even, go under the seat they can't do that. I've actually had two individuals kick out my back window in the last four or five years so the new window bars are going to prevent that."

According to Sgt. Charles, the District Police always bought re-manufactured cars that have been retired from different agencies or cars that have high mileage but, the only problem is keeping up with maintenance in the vehicles and wanted to come up with something more better and reliable for patrolling.
"Last year we spent about $15,000 on just vehicle repairs. We replaced two rear ends, replaced an engine in one car, different computer issues that come up for whatever reason. When you buy a brand new car you get 5 year warranties so if anything happens it's replaced by the manufacturers not coming out of our budget. So, hopefully you know in the next five years were only paying for tires and oil changes. That's going to help our budget in the long run because we're not having to spend money on things that are breaking down or stuff like that. "
On January 23, 2019, The new police cruiser was seen and on its first day of patrol. Sgt. Charles was the first to drive the brand new 2019 Dodge Charger.
The big difference I've noticed is that they have backup cameras," said Charles, it has collision avoidance which the sensors on the back bumper.  If your driving down the road and someone pulls up in your blind spot there's a little light in the rearview mirror to let you know that there's a car there. It's a good feature to have especially when you're driving through parking lots you got people walking and cars pulling out of parking lots."
Sgt. Charles asks that anyone that would like to learn more about their new police cruiser can talk to an officer or visit the District Police to learn more about the new police cruiser.