Death, Fear, and Semi-Automatic Weapons: An American Tragedy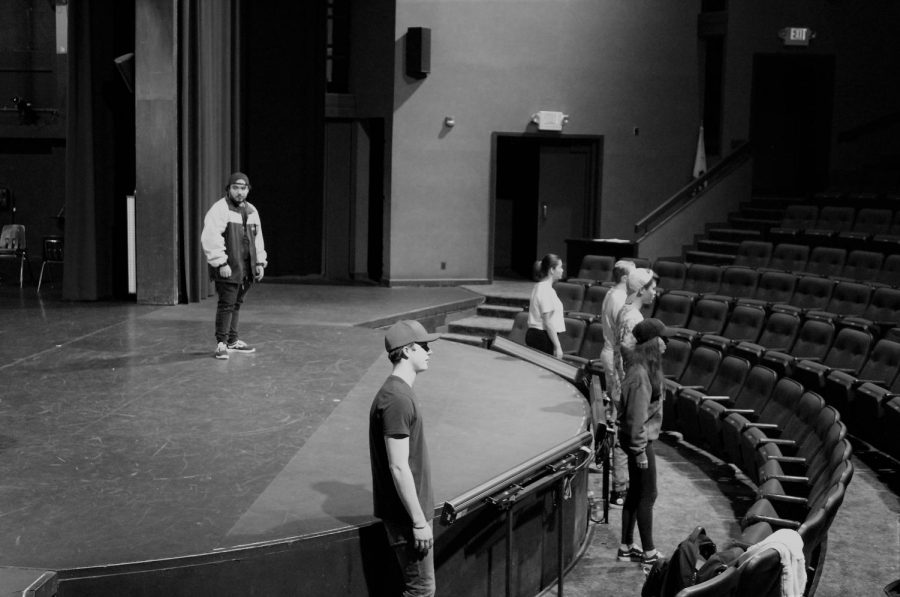 John Dillon, Arts and Entertainment Editor
February 6, 2019
From a show about two bumbling idiots in Hamlet to a rock opera on populism, the College of the Sequoias Theatre Department is not afraid of making people uncomfortable. Their new student show is no exception.
Mason Garcia and Michael Seitz are co-directing "Columbinus", which Seitz calls a show about change. "I want people to come see the show and understand the changes that are happening not only with kids but with society. There's a huge shift in stigma and a fear
in things without a change happening." said Seitz. The play chronicles the arcs of individual high schoolers and how they react to each other.
This is the first directing experience he's had and it's been eye-opening for Seitz. "One of the biggest thing was learning that every character is the hero of their own story and they're coming from a place of hope," Seitz said. He's been performing since high
school and this is his third project at COS with "Bloody Bloody Andrew Jackson" and "Macbeth" being his first two shows.
"Chris Mangels is a phenomenal director and teacher," said Seitz. He's worked under Mangel's direction during his time at COS. "It's been awesome. The actors are smart and there have been some fantastic surprises."
The directors have also placed a big emphasis on the mental health of their cast. "Mason and I talked about mental health early on," said Seitz. "We were both in Macbeth and that took a toll on us." Together, the cast does breathing exercises and they try to keep
a positive attitude in general.
"Despite the morbid nature of the show, it's been a really positive working environment," said Owen Webb, one of the principal characters. "It's unique and something people don't get a chance to see," he said about the show.
The show deals with difficult topics like mental illness and school shootings. "I think in today's climate, this can be a very hot topic with the amount of school shootings and tragic events like that going on, I think it's important we bring it to people's attention,"
Webb said.
Andrew Martinez also plays a principal character in the show and shares the same sentiment with Webb. "It really is showing this American tragedy and how it's become an event. Columbines happen all over the nation," said Martinez. "We're asking questions. Okay this
wasn't just a one time thing. Why wasn't it?"
Martinez plays one of the shooters who goes to Columbine. "It's pretty powerful theater," he said. Not only does the show discuss the school shooting that happened in 1999, but also the archetypes of American high school. Clichés of personalities are seen through the
show by characters who aren't called by their name, but instead by their personality with names like Rebel, Faith, and Jock.
Natalie Ezelle plays a character named Perfect. "The show takes a lot of different stereotypes you see in high school, but they're all dealing with their own problems. This show is a conversation that needs to be had," said Ezelle. "There really isn't a solution presented,
but sometimes the things we don't want to talk about are the things we need to talk about the most."
"Columbinus" is playing Feb. 1 and 2 at 7:30pm at the COS Theater.