All the way from Georgia, it's a family affair.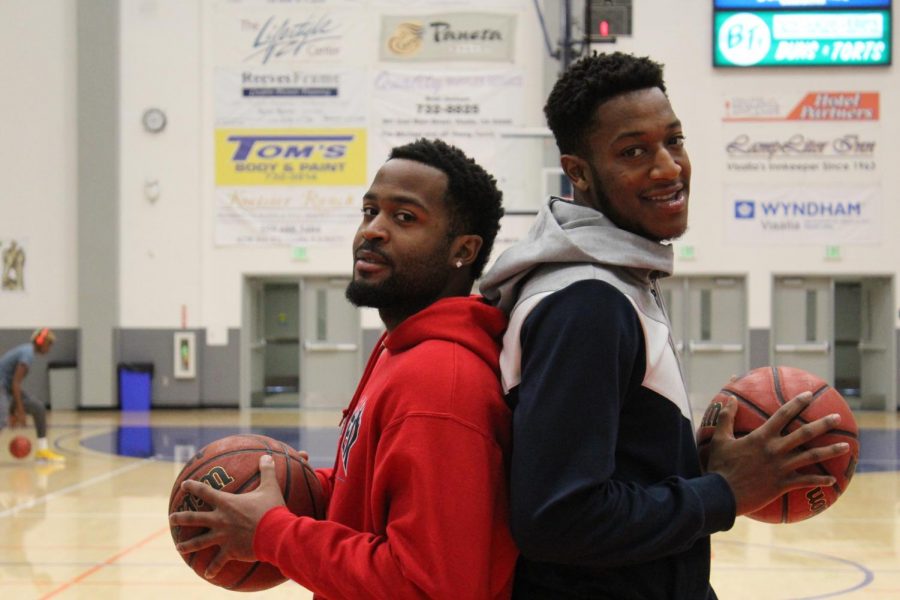 Jared Salcedo, Reporter
February 6, 2019
Being away from family is hard, but for Jarell Holmes and Keshawn Gibbs two cousins from Atlanta, Ga, came all the way to California to play together in their favorite sport basketball. Gibbs, 21, who majors in engineering loves basketball a lot has a desire to go pro.
As for Jarell Holmes, 21, who majors in ITECH came along with his cousin Gibbs to play alongside with him and work on his general education. Gibbs is older than Holmes by 2 months and basically grew up together. Gibbs and Holmes love to watch basketball in general including NBA players like Kevin Durant, LeBron James, Stephen Curry, Lou Williams, Carmelo Anthony etc. Basketball is in their DNA.
Both live in a house with teammates. They both chose College of Sequoias because " It gives us the same opportunity to play together." said Holmes.
"It's a nice school, nice campus, and open" said Gibbs.
Their Uncle knew Brent Davis and Davis recruited them to join the school. August 8, 2018 is when the two arrived in California. Their family wanted what is best for them even if it meant playing in a different state together.
The boys from Atlanta described Atlanta as fun, nightlife is great, concerts, fast paced and enjoyable. When asked about Visalia compared to Atlanta both looked at each other and laughed then both said, "More quiet, different from what we are opposed to."
"There's no nightlife and it is more quiet" said Gibbs.
"You guys have the heat heat type weather whereas Atlanta it's just humid" Gibbs and Holmes agreed on.
The guys miss their mother and everything else about Atlanta.
"I miss my mom's cooking the most. " Gibbs said.
When asked about what specific type of food, it was everything about mommas cooking to both Gibbs and Holmes. Both drive, but not in California so they miss their cars too.
On their free time, Gibbs loves to play Fortnite, watch sports, and draw whatever comes to mind. As for Holmes, workout, play NBA 2K, and read lyrics of Atlanta rapper YFN Lucci "The GOAT" according to Holmes.
The both have traveled the United States such as Florida, Nevada, Illinois, Colorado, Tennessee, and Ohio.
"We do everything together." Holmes said.
The plan after COS for Gibbs is to hopefully be playing in the NBA and live life. If not, then Gibbs will pursue his career as an engineer. As for Holmes, he would like to go back home and play for Clark Atlanta HBCU ( Historically Black Colleges and Universities ).
Keshawn Gibbs would like to be remembered for being a good person and a really good basketball player. Jarell Holmes wants to be remembered for being a leader and a hard worker.
"My brother on and off the court and as long as we're together it don't matter where we are."