Ismael Ramirez crosses the finish line as All American
Venie Soares, Lead Reporter
November 26, 2018
Ismael Ramirez earned the first cross country All-American honor at College of Sequoias since his coach, David Sanchez, did it in 2009. 
Ramirez cruised the four-mile course at Fresno's Woodward Park in 20.39.3 to finish 8th in the California Community College Athletic Association state finals. The top 14 finishers were honored as All-Americans. 
A freshman, Ramirez led the Giants team to a 10th place finish, also their best since 2009.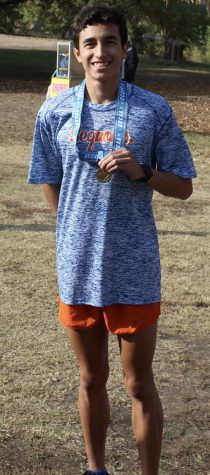 "I was hoping we could finish in the top five," said Ramirez. "We're going for top three next year. This is a good starting point to get better next year." 
Before the race, Ramirez said he concentrated on staying calm and getting out to a smart start. During the race he ran really hard. At the end, he tried his best to push through the pain. He credited the workout programs prescribed by his coaches in building up his strength and endurance. 
"I couldn't ask for better workouts," Ramirez said, "The timing of the workouts and the goal setting are really effective. To be All-American you have to work hard and do your best." 
In the state finals, Ramirez was the top finisher from the NorCal section meet and over the course of the season, never finished worse than 11th in any meet he entered. 
"He's quiet but breaking out of his shell," (coach) Sanchez said, "He helps his teammates believe in themselves. It creates a bond of family."