Mason Garcia, an actor hungry for expereience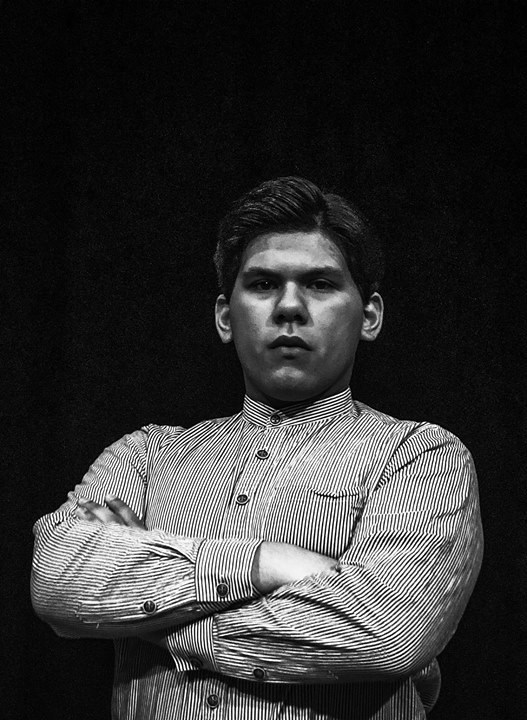 William Huffaker, Staff Reporter
November 15, 2018
When it comes to notable College of the Sequoias students, few stand out as highly as Mason Garcia (19, Theater), who has spent his two years at COS working tirelessly for the Theater department. 
Students who attended a showing of The Tragedy of Macbeth this Fall would recognize him as the man behind the titular character. 
"I got in theater around the end of my sophomore year in high school." says Garcia.  After attending a school performance, he was captivated by the art and has since worked to build a presence in the world of theater.  "I've always loved movies and being a storyteller is something I've always been interested in."  Plays, he says, just carry more energy and become an event for the audience. 
While at COS, Garcia has been cast in several productions, including Shakespeare in Hollywood as Oberon, a small part in Bullets Over Broadway, John Proctor in The Crucible, and the previously mentioned Macbeth. 
Garcia does not simply serve as cast, though, as he contributed in last Fall's Bloody, Bloody Andrew Jackson, by working tech.  Also, after joining a stagecraft class, Garcia soon began expanding his role with his work in set design.  With help from director Christopher Mangels, he was able to design the set of The Crucible.  The set of the upcoming Picasso at the Lapin Agile however, is a design entirely his own. 
"He [Mason] definitely has a lot of passion.  He's very hungry for a large variety of experiences as an actor, designer, and director." says James McDonnell, Director of Picasso. 
When asked which production he felt was most important for his growth in theater, Garcia said, "I think I've learned something from all of them but the one I'm most proud of is Macbeth, because of all the challenges we had to overcome."  The cast and crew faced multiple challenges with the production as it introduced the aspect of film and computer-generated special effects to a play.  Garcia had scenes where he on stage interacted with a recording of himself on screen. 
Garcia is the co-president of COS' Artco, which this upcoming winter will be putting on Columbinus, a play that deals with the shooting that took place at Columbine High School on April 20, 1999.  He and his fellow Artco captains had some hesitancy before selecting the play and were wary of possible backlash but ultimately chose it as they felt that it would be a very beautiful and inclusive play if done right.  He then warned to not just take the play at face value. 
His Artco co-president Alysha Curtis, 19 , Civil Engineering, who has stage managed both The Crucible and Macbeth had this to say about Garcia.  "On the occasion I found myself in the theatre on our off days, and at the times I would come early to my own call, I would find him in the middle of practicing his lines or any given choreography.  He almost constantly works on himself and the show, no matter the time or day." 
Mason concluded by offering some advice for students who wish to enter the world of acting and theater, saying that they should know beforehand that this is where their passion lies because it will demand their all.