Theatre preview for COS 2018-19 Season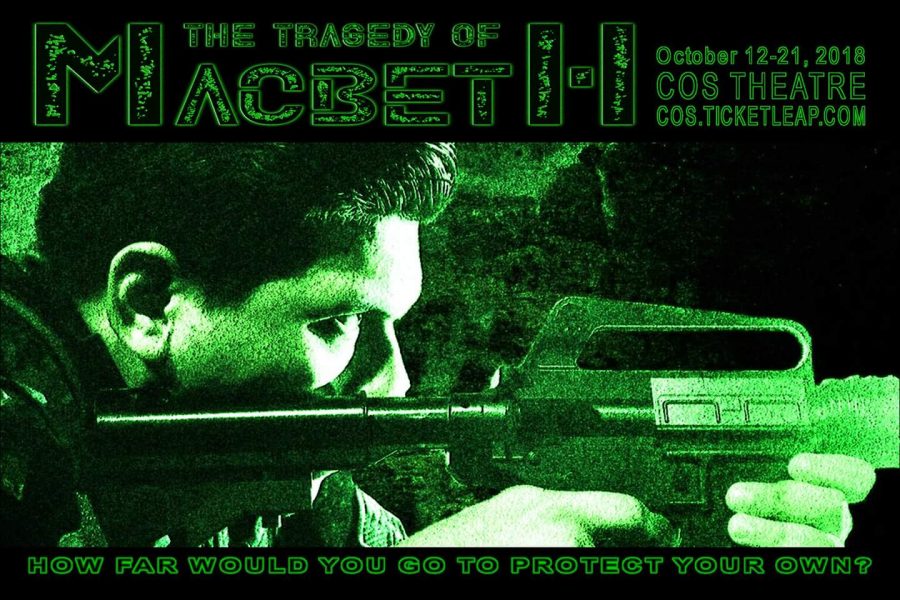 William Huffaker, Staff Reporter
October 10, 2018
College of the Sequoias' Performing Arts Department has a lot in store for us this season of 2018-2019.  It begins with the well-known tale of ambition and murder, The Tragedy of Macbeth, from October12-21.  William Shakespeare's original play has been more modernized and freely adapted by director Chris Mangles.  Mason Garcia is set to star in the PG-13 rated performance as the titular character. 
According to Mangles, "Macbeth is a commentary to where we are as a nation now."  He then added, "The show of Macbeth addresses the interest in hate speech and xenophobia with modern relation." 
Mangles recommends the following show for students and all people alike.  Picasso at the Lapin Agile is what happens when one of America's greatest humorists imagines a meeting between Albert Einstein and Pablo Picasso and the comical events that soon follow.  The performance is written by Steve Martin and directed by Schyler Mayo and James McDonnell.  This play, also rated PG-13, is set to premiere from November 9-18 with Uriah Madrid playing the main character of Picasso. 
In February, Artco is set to debut 2019's first performance.  Artco, COS's theater club, is a student run company set to help students gain experience working in a professional setting.  The play, directed by Mason Garcia, 19, Theater, is Colombinus, which is based around the mass shooting that took place at Colombine High School in 1999.  Auditions for this performance will take place on November 13 and 14 from 4-7. 
The show tackles the topic of mass shootings and according to Garcia has a very important subject.  "The show is something that everyone can take a message from."  He says that students and outside adults alike should both attend as it addresses an ongoing problem taking place across America. 
Garcia also personally recommends students consider watching The Tragedy of Macbeth. 
The musical Evita, about the rise and fall of Eva Peron, is set to show on March 15-24 of 2019.  James McDonnell is once again set to direct alongside John Sorber, Imara Quinonez, and Michael Tacket.  Andrew Lloyd Webber will take on the music while Tim Rice will be writing lyrics.  Auditions will be open around December for anyone who wants to participate in the play. 
Based on the novel by Alexandre Dumas, The Three Musketeers, will debut on April 26 and carry through May 6 of 2019.  Director Chris Mangles has once again freely adapted his play, while still maintaining the core values of honor and love present in the original.  This will be the 25th anniversary of the show's first debut.  Parents can feel free to bring the little ones as this is the first and only show to be rated PG.  Contrasting the others, it is meant be more lighthearted and fun. 
Mangles says, "I'd wanted a female protagonist not only for representation for women, but I'd liked the idea of a woman in a man's world." 
Auditions for the play will be held in January and is once again open to anyone who wishes to participate.  Updates on the play can be seen on the Facebook page, College of the Sequoias Performing Arts. 
Premiere access to all four main stage productions and a complimentary VIP admission to the ArtCo production can be gained by becoming a COS Theater Angel with Artco.  Membership costs $100.  Theater Angels' names will also be listed in programs and on special lobby posters throughout the 2018-2019 season.