Dr. Chris Cepeda-Millan speaking at COS!
Focusing on immigration, public relations, racial politics, interdisciplinary, and activism.
The start of CHAP is getting started, as the 2018 Spring semester holds its first event for spring. Dr. Chris Cepeda-Millan from UC Berkeley sets to make landfall at COS on March 22, 2018, from 7-9 pm.
Dr. Chris Cepeda-Millan became the first Chicano to receive his doctorate from the Department of Government at Cornell University. He is also the Faculty Chair of UC Berkeley's Center for Research on Social Change. While Cepeda-Millan sets his researching methods on archives, in-depth interviews, and survey reviews.
His public intellectual work includes working with national, local and community organizations; publishing op-eds in local newspapers across the country; being an invited contributor to NBC News, NACLA (North American Congress on Latin America) Report, Latino Decisions, and the London School of Economic's USAPP blog; and he frequently writes for The Progress magazine and The Huffington Post.
Dr. Cepeda-Millan has also been involved in various social movements related to global justice, labor, student, immigrant, environmental and indigenous rights.
His first book was recently published by Cambridge University Press, and has been interviewed by several local, national, and international media outlets, including: the LA Times, La Opinion, Univision, PBS, Colorlines magazine, several Pacifica Network radio stations, as well as Canadian, Japanese, Brazilian, and Vietnamese television stations and newspapers.
"I'll be having a general view of my recent book at College of the Sequoias and, that book is based on in-depth interviews with the organizers of the largest series of protests that happened across the country and different regions," Chris said, in a phone call. "In general, from evidence with my research methods, that's how I gathered I'll be talking about my research and the book. My book recently came out in October 2017."
Dr. Cepeda-Millan continued to explain what inspired him to write books.
"My general area of research is racial-ethnic politics in the United States, and my particular specialty within that is Latino politics and immigration, as I've been trained and working on these topics since 2005. I received my Ph.D in 2011 and been publishing ever since on these topics."
Dr. Cepeda-Millan says that he is looking forward to his visit at College of the Sequoias in March to talk about his recent book Latino Mass Mobilization: Immigration, Racialization, and Activism that focuses on civil and immigration rights.
About the Writer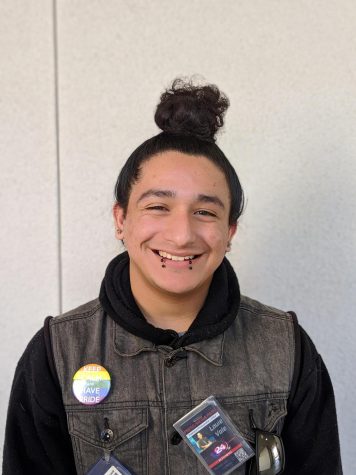 Louie Vale, Photographer
Louie Vale is a COS Student who is Sophomore out of Hanford. He is passionate of photojournalism to the assigned areas of COS. Louie has joined The Campus...